Sketch: About 2 hours each.
I'm getting really noodly with these all of a sudden. Putting a lot more time into each one. So much so that it's making my previous attempts look like ass (no pun intended). I think it has something to do with this contract gig I have. I have to create these avatars and I'm spending hours on making these really tightly rendered forms. It's definitely influencing the way I render my sketches.
I don't know if I will loosen up again or stay with the tightly rendered look.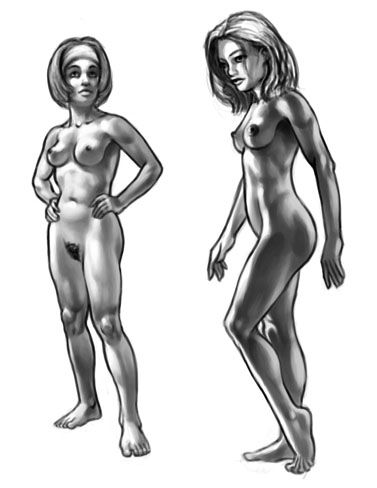 I don't have much to comment on in the world, so here are some links to chew on.
Link 1 pearl 2
Link 2 shine my shoe
Link 3 insanity
Link 4 never more
---------------------------------------------------------
Ward Churchill links (Since he's the new scapegoat to keep everyone's attention off the really fucked up Bush Admin:
Ward Churchill
IS NOT
the Story!
---------------------------------------------------------
COOL SCULPTURES!!:
Bolt Gallery