Sketch - SexBot 2150CE
Colored up the drink and draw sketch from last Monday. It's a Sex Bot working its corner in the Tenderloin district circa 2105 CE.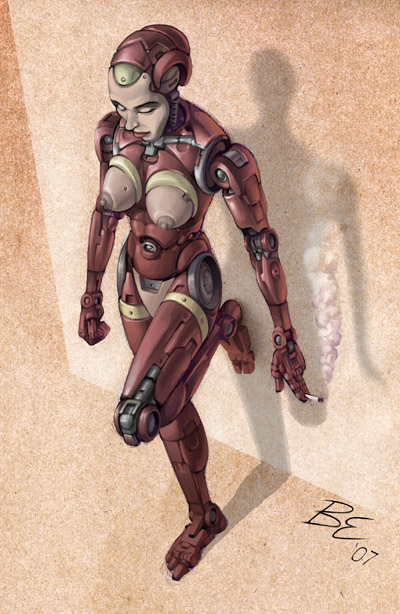 My studio mate suggested that women wouldn't like this image. My first thought was, "What do I care?". Sometimes he concerns himself too much with the possible reactions a piece of art might provoke. He's a fine artist but spent many years in the commercial illustration field. Maybe all those years working in the advertising industry forced him to think and create conservatively. So he approaches his gallery work rather conservatively as well, perhaps. I guess the more mainstream your subject matter, the more likely it is that the work will sell.
I don't typically approach personal work in that way. I've always just followed my own path and to heck with what people think of it. What does this image suggest about me? Is it misogynistic and sexist, or sexual objectification at its basest?
Those
that have come before have probably had the same questions posed about them.
My answer is simple. I love the female form and robotic imagery and am always looking for ways to combine the two. This is a design exercise for me and nothing more. I have created many sketches within this theme (some of which can be found in my blog archive).
Sometimes I want to convey a sexy playfulness: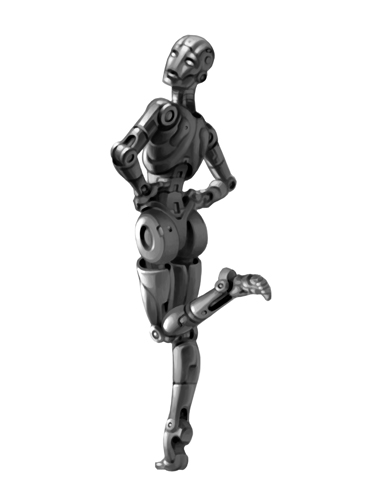 Other times I try to create a disturbing juxtaposition of the two.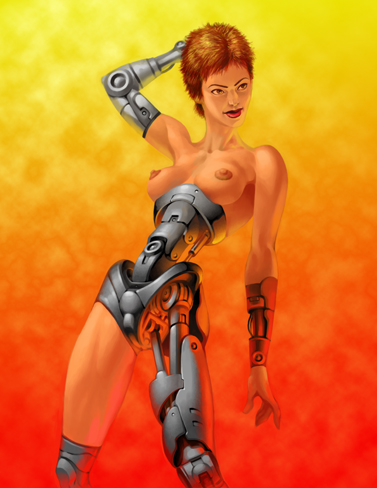 But it is always about finding an interesting balance of forms. Maybe I am objectifying women to some degree. I guess that's inherent in this kind of work. I've been known to draw male bots as well. The output is decidedly less explicit: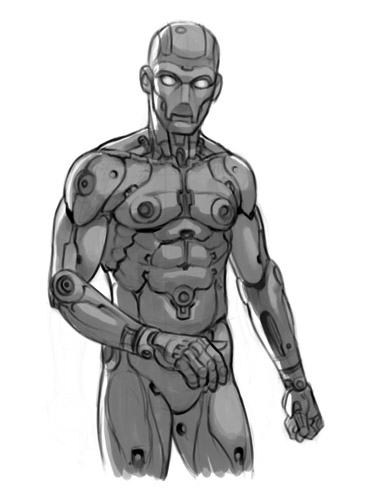 What can I say? Not a fan of drawing mechanical penises. But it's not beyond the realm of possibility. Click
here
to see a tweaked image of the Sex Bot.
*warning - contains mechanical penis imagery - dun dun dun*