Codename: Maelstrom
Codename: Maelstrom is the name of one of my game proposals that I will eventually show on
Beeline Studios
. I won't get into the details of the game here. My main purpose is just to show the main character design that I've been working on. The character Maelstrom has been percolating in my head for some time. Sketches I've done over the years can be seen here (towards the end):
Art bytes - Characters
Here was my final design: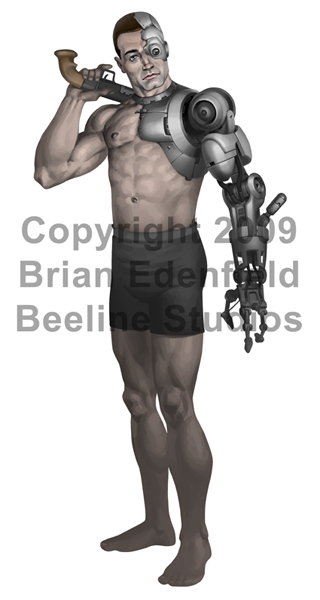 He's in his skivvies because I intend to model him as you would an MMO game character. Well, it's similar to the way we modeled characters at
Doppelganger
for the
vSide
social world. The vSide avatars were modeled in separate pieces (hair, face/head, body, legs, feet, and accessories) and then users could mix and match the different clothing items.
Once I've modeled the bare avatar, I will start modeling a few different combat uniforms for him. First I will model a low polygon version in Maya, and then import that into ZBrush where I will make a high polygon version for the normal map. Normal maps are what make the characters in next generation games look so good. It's basically a new way of bump mapping.
After completing the first draft of the final design, I wanted to try something different with the cybernetic arm. Here's the second iteration: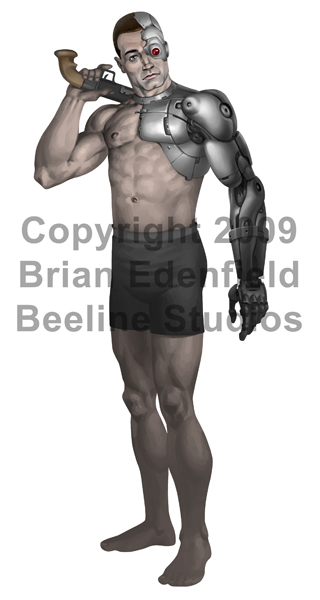 I wanted something organic looking but still have a cybernetic feel. This is the version I will model. But I did do a third iteration as a combination of the first and second:
This one I like because the surface is very smooth at the shoulder but looks very mechanical at the "hand". But I've decided I will go with the second version. Here is Maelstrom in his Urban Camouflage gear:
I'm going to draw a three quarter back view of the character before I actually start modeling. I like to work out a lot of details in 2D before I start the 3D process. I think it helps me model faster.
This character is the property of Brian Edenfield/Beeline Studios. Please do not reproduce without permission.